Wood Orthodontics and What They Can Provide
Orthodontics is defined by Merriam-Webster as a branch of dentistry dealing with irregularities of the teeth (such as malocclusion) and their correction. That definition does do the term 'orthodontics' justice, but for Wood Orthodontics their practice means much more. 
Wood Orthodontics provides the best quality service in Weatherford, Texas, and its surrounding areas. This practice specializes in a couple types of braces, as well as dealing with any bite issues you may have. 
In terms of the types of braces Wood Orthodontics can supply, we have metal braces, ceramic braces, and clear aligners. The difference between the three is substantial, but all end up helping you reach your main end goal of straightening out those pearly whites.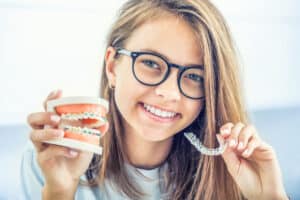 Metal braces are the most common of the three braces but are very effective in their treatment. They are bonded to the teeth then attached by an archwire, helping pull together any potential gaps you have in your mouth. Wood Orthodontics also offers a new style of metal braces that are smaller, and more attractive. 
Ceramic braces are not much different than metal braces. They are not as noticeable but they still do the same job that the metal braces do in bringing your teeth to the spot you want.
As for clear aligners, these are much different than both metal and ceramic braces. Clear aligners essentially look like clear retainers, made out of strong plastic that helps get to the point you want. 
And when it comes to any biting issues, Wood Orthodontics can also help. Whether it be the overcrowding of teeth, the spacing of teeth, or an underbite/overbite, Wood Orthodontics is here to help fix that issue. 
That is even true if you are experiencing the issue of the lesser-known open bite. An open bite is when your back teeth are together and touching,  and there is a significant gap between the top and bottom front teeth. It makes it so that it looks like your mouth is open even when it is closed. It may require braces to fix, but it will be fixed nonetheless if you visit Dr. Wood.
There are more than enough positive reviews from current and former patients to buy into the fact that Wood Orthodontics can help with this, or any, issue. 
For example, patient Melissa G. says that she would, ". . .love to recommend [to] anyone, and everyone to use this orthodontist. They are caring, and so pleasant and will take the time to talk to you about anything you have questions about."
The praise of Wood Orthodontics is endless. Dr. Wood and his team know what they are doing, and are willing to help any and every patient in the Weatherford, Texas area. That has already been stated, but it bears repeating. If you really want to straighten out your teeth, get the best bang for your buck, as well as receive the friendliest orthodontists in all of Texas, visit Wood Orthodontics. Contact our office today to schedule an appointment.