Wood Orthodontics Protocol for COVID-19
When coming our office please understand that we are wearing masks during patient interactions in order to follow the guidelines and regulations of the Texas State Board of Dental Examiners (TSBDE), Occupational Safety and Health Administration (OSHA), Center for Disease Control and Prevention (CDC), American Dental Association (ADA), and American Association of Orthodontists (AAO).
Office Changes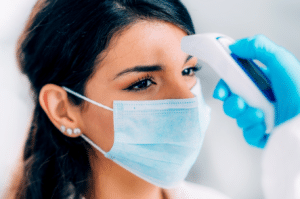 Because of the virus and its rapidly changing variants, we have made some changes in our office that will help everyone stay safe.
Plexiglass barriers
A reception area that helps make social distancing is easier
Increased our disinfecting protocol
Etiquette signage as reminders
Special appointment days with strict protocols for our immunocompromised and senior patients
Safety Precautions
Dr. Wood and all the staff will be wearing face coverings along with performing daily health and temperature checks.
We do understand that the "new normal" can be very inconvenient, but to keep everyone safe we follow them closely. If you have any questions that you need answering please don't hesitate to reach out to our office, Wood Orthodontics. We are here to help you with any issues or questions you have regarding COVID-19 and our policies.
If you are in the Weatherford, TX area and you have been looking to schedule an appointment but have been waiting for things to settle down please come in. We assure you that we have taken all necessary precautions and even more to keep things safe and clean. We look forward to hearing from you and wish you the best during this difficult time.